"Kick-Start" dressmaking class, Miltown Malbay 
New format for Spring 2020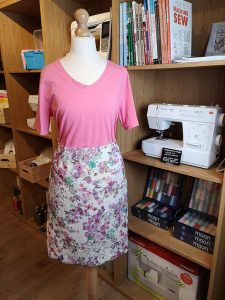 This beginners' dressmaking course is most suitable for those who already have a little experience using a sewing machine, but want to start making (or altering) clothes or improve their skills. Due to time constraints and larger class size, this class may not be suitable for complete beginners.
10 week dressmaking course
Thursday evenings (7pm – 9pm):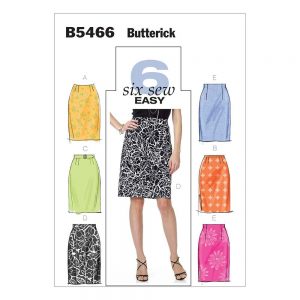 Fee: €120
Contact me using the contact form or call 087 669 3331 to book.
While it is a beginners' dressmaking course, I'm going to assume that you have sewn before and you probably have a machine (though this is not essential); you might even have tried some simple dressmaking. If you have never used a machine before, you may be better served booking my 6-day, "No Fears, No Failures" beginners' course.
Scroll down to see my full Spring 2020 Timetable.
What will I learn?
This evening sewing class adopts the same fun and stress-free ethos as my complete beginners' course. The first half hour of each class will be focussed on dressmaking techniques. Then participants will work on a simple garment.
Pattern layout, markings and transfer
Zipper installation
Darts
In-seam pocket (if desired)
Waistband or facing
Blind hem (machine and/or hand-sewn)
Use of overlocker (optional)
What equipment will I need?
You will need a sewing machine and a basic sewing kit. For beginners, I recommend just seven items to get you started:
As with all my courses, if you have all these things at home, all well and good. If not, you are welcome to purchase them direct from me. All students receive a 10% discount on store items (excluding sewing patterns). Depending on your level of experience, I can help you choose a simple pattern. I keep Butterick and Simplicity patterns in stock and can order McCalls, Vogue, Burda and New Look. You will also need fabric.
Booking
Sewing Class Timetable – Spring 2020
Contact me using the contact form or call 087 669 3331 to book.
w/c 27th January
Saturday, 1st February
"No Fears", Beginners' dressmaking (10.30am – 4.30pm)
w/c 3rd February
Thursday, 6th February
"Kickstart Dressmaking" (7pm – 9pm)
Saturday, 8th February
"No Fears", Beginners' dressmaking (10.30am – 4.30pm)
w/c 10th February
Thursday, 13th February
"Kickstart Dressmaking" (7pm – 9pm)
Saturday, 15th February
"No Fears", Beginners' dressmaking (10.30am – 4.30pm)
w/c 17th February
Thursday, 20th February
"Kickstart Dressmaking" (7pm – 9pm)
Saturday, 22nd February
"No Fears", Beginners' dressmaking (10.30am – 4.30pm)
w/c 24th February
Thursday, 27th February
"Kickstart Dressmaking" (7pm – 9pm)
Saturday, 29th February
"No Fears", Beginners' dressmaking (10.30am – 4.30m)
Sunday, 1st March
"No Fears", Beginners' dressmaking (10.30am – 4.30m)
w/c 2nd March
Thursday, 5th March
"Kickstart Dressmaking" (7pm – 9pm)
Saturday, 7th March
"No Fears", Beginners' dressmaking (10.30am – 4.30m)
Sunday, 8th March
"No Fears", Beginners' dressmaking (10.30am – 4.30m)
w/c 9th March
Thursday, 12th March
"Kickstart Dressmaking" (7pm – 9pm)
Saturday, 14th March
"No Fears", Beginners' dressmaking (10.30am – 4.30m)
w/c 16th March
Thursday, 19th March
"Kickstart Dressmaking" (7pm – 9pm)
Saturday, 21st March
"No Fears", Beginners' dressmaking (10.30am – 4.30pm)
w/c 23rd March
Thursday, 26th March
"Kickstart Dressmaking" (7pm – 9pm)
Saturday, 28th March
"No Fears", Beginners' dressmaking (10.30am – 4.30pm)
w/c 30th March
Thursday, 2nd April
"Kickstart Dressmaking" (7pm – 9pm)
Saturday,4th April
"No Fears", Beginners' dressmaking (10.30am – 4.30pm)
w/c 6th April
Thursday, 9th April
"Kickstart Dressmaking" (7pm – 9pm)
Friday, 10th April
Good Friday
Saturday, 11th April
Sunday, 12th April
Easter Day
w/c 13th April
Monday, 13th April
Bank Holiday
Saturday, 18th April
"Love your overlocker" (10.30am – 5.30pm)
w/c 20th April
w/c 27th April
Saturday, 2nd May
"Quilt Workshop" (TBA)
w/c 4th May
w/c 11th May
w/c 18th May
Saturday, 23rd May
"Sew Professional" (10.30am – 5.30pm)
Sunday, 24th May
"Sew Professional" (10.30am – 5.30pm)
w/c 25th May
w/c 1st June
Saturday, 6th June
"Sew Professional" (10.30am – 5.30pm)