"Kick-Start" dressmaking class, Miltown Malbay 
New format for Autumn 2019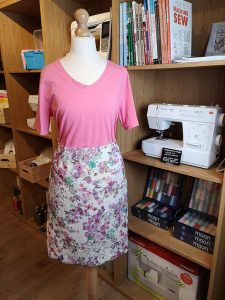 This beginners' dressmaking course is aimed at those who may already have a little experience using a sewing machine, but want to start making (or altering) clothes or improve their skills. If you can't commit to weekend classes, this evening sewing class might be for you.
Available dates
10-hour dressmaking course, 5 x Thursday evenings (7.30pm – 9.30pm):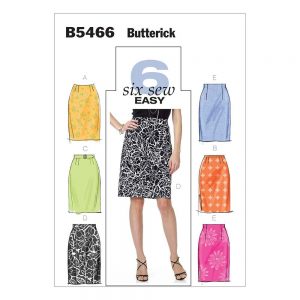 Thursday, 31st October
Thursday, 7th November
Thursday, 14th November
Thursday, 21st November
Thursday, 28th November
Fee: €120 (including skirt pattern)
Contact me using the contact form or call 087 669 3331 to book.
While it is a beginners' dressmaking course, I'm going to assume that you have sewn before and you probably have a machine (though this is not essential); you might even have tried some simple dressmaking. If you have never used a machine before, you may be better served booking my 6-day, "No Fears, No Failures" beginners' course.
Scroll down to see my full Autumn 2019 Timetable.
What will I learn?
This evening sewing class adopts the same fun and stress-free ethos as my complete beginners' course. You will make a simple pencil skirt (with pattern hack available to add pockets) and, if time allows, a t-shirt in cotton jersey fabric.
Pattern layout, markings and transfer
Zipper installation
Darts
In-seam pocket (if desired)
Waistband or facing
Blind hem (machine and/or hand-sewn)
Use of overlocker (optional)
What equipment will I need?
A sewing pattern for the skirt is included in the course fee, but you'll need to buy your fabric. You can choose from my fabric range and benefit from a 10% discount or, if you have something suitable at home, you're welcome to use that too. The basic sewing kit that I recommend for new learners comprises just seven items. These really are all you need (other than consumables like thread and fastenings) to get you started:
As with all my courses, if you have all these things at home, all well and good. If not, you are welcome to purchase them direct from me. All students receive a 10% discount on store items (excluding sewing patterns).
Booking
Sewing Class Timetable – Autumn 2019
Contact me using the contact form or call 087 669 3331 to book.
w/c 11th November
w/c 9th September
Thursday, 12th September
"Kick-Start", Intensive dressmaking (7 – 9pm)
Saturday, 14th September
"No Fears", Beginners' dressmaking (10am – 4pm) – 1 place
w/c 16th September
Thursday, 19th September
"Kick-Start", Intensive dressmaking (7 – 9pm)
Saturday, 21st September
"No Fears", Beginners' dressmaking (10am – 4pm) – FULL
Sunday, 22nd September
"No Fears", Beginners' dressmaking (10am – 4pm)
w/c 23rd September
Thursday, 26th September
"Kick-Start", Intensive dressmaking (7 – 9pm)
Saturday, 28th September
"No Fears", Beginners' dressmaking (10am – 4pm) – FULL
Sunday, 29th September
"No Fears", Beginners' dressmaking (10am – 4pm)
w/c 30th September
Thursday, 3rd October
"Kick-Start", Intensive dressmaking (7 – 9pm)
Friday, 4th October
Sewing Machine Demo Day (10.30am – 4pm)
Saturday, 5th October
"No Fears", Beginners' dressmaking (10am – 4pm) – FULL
w/c 7th October
Thursday, 10th October
"Kick-Start", Intensive dressmaking (7
– 9pm)
Saturday, 12th October
NO CLASSES
Sunday, 13th October
NO CLASSES
w/c 15th October
Saturday, 19th October
"No Fears", Beginners' dressmaking (10am – 4pm) – FULL
Sunday, 20th October
"No Fears", Beginners' dressmaking (10am – 4pm)
w/c 21st October
Saturday, 26th October
"No Fears", Beginners' dressmaking (10am – 4pm) – FULL
Sunday, 27th October
"No Fears", Beginners' dressmaking (10am – 4pm)
w/c 28th October
Thursday, 31st October
"Kick-Start", Intensive dressmaking (7- 9pm)- booking now!
Friday, 1st November
Sewing Machine Demo Day (10.30am – 4pm)
Saturday, 2nd November
"No Fears", Beginners' dressmaking (10am – 4pm) – FULL
Sunday, 3rd November
"Sew Professional" advanced skills (10am – 5pm) – 2 places
w/c 4th November
Thursday, 7th November
"Kick-Start", Intensive dressmaking (7 – 9pm)- booking now!
Saturday, 9th November
"Love Your Overlocker" (10am – 5pm)
w/c 11th November
Thursday, 14th November
"Kick-Start", Intensive dressmaking (7 – 9pm) – booking now!
Saturday, 16th November
"No Fears", Beginners' dressmaking (10am – 4pm) – FULL
w/c 18th November
Thursday, 21st November
"Kick-Start", Intensive dressmaking (7 – 9pm)- booking now!
Saturday, 23rd November
"No Fears", Beginners' dressmaking (10am – 4pm) – FULL
Sunday, 24th November
"No Fears", Beginners' dressmaking (10am – 4pm)
w/c 25th November
Thursday, 28th November
"Kick-Start", Intensive dressmaking (7 – 9pm) – booking
now!
Saturday, 30th November
"No Fears", Beginners' dressmaking (10am – 4pm)