This summer dress with a bias-cut skirt has been the runaway favourite with my beginner class, since its introduction in 2012. Six options (or 'views') exist – with or without sleeves, ribbon trims, tie belt, v-neck or round, or strapless (not recommended). Pattern specifies lined bodice, but most students choose to line the skirt as well.
Available in sizes 8 – 22, but check size chart, as pattern sizes are generally significantly smaller than ready-to-wear.
Recommended fabrics: linens, cottons, poly-cottons, ginghams. If lining skirt (recommended), buy same quantity of lining as dress fabric.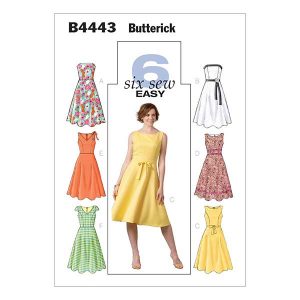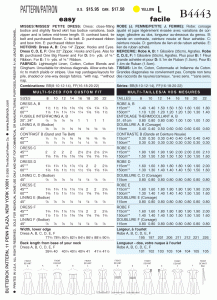 Butterick size chart
Measurements in inches
SIZE

4
6
8
10
12
14
16
18
20
22
24
26
Bust
 291

/

2
301

/

2
311

/

2
321

/

2
34
36
38
40
42
44
46
 48
Chest
 271

/

2
281

/

2
291

/

2
301

/

2
32
34
36
38
40
42
44
 46
Waist
 22
23
24
25
261

/

2
28
30
32
34
37
39
 411

/

2
Hip
 311

/

2
321

/

2
331

/

2
341

/

2
36
38
40
42
44
46
48
 50
Measurements in centemeters
| SIZE | 4 | 6 | 8 | 10 | 12 | 14 | 16 | 18 | 20 | 22 | 24 | 26 |
| --- | --- | --- | --- | --- | --- | --- | --- | --- | --- | --- | --- | --- |
| Bust |  75 | 78 | 80 | 83 | 87 | 92 | 97 | 102 | 107 | 112 | 117 |  122 |
| Chest |  70 | 73 | 75 | 78 | 81 | 87 | 92 | 97 | 102 | 107 | 112 | 117 |
| Waist | 56 | 58 | 61 | 64 | 67 | 71 | 76 | 81 | 87 | 94 | 99 | 104 |
| Hip |  80 | 83 | 85 | 88 | 92 | 97 | 102 | 107 | 112 | 117 | 122 | 127 |