Husqvarna Viking H|Class E20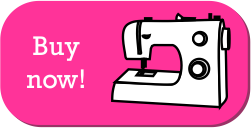 Easy-to-operate, mechanical sewing machine
I'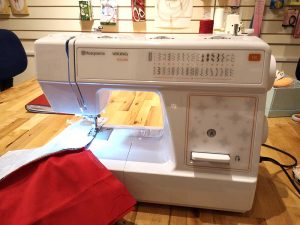 m a big fan of mechanical machines. There's something satisfyingly simple about a machine where each setting is changed with a turn of a dial. And, if you're just starting out or are used to an older style of machine, the more hands-on experience you get with a mechanical machine can be a valuable aid to better understanding the various functions – rather than poking at arrowed buttons and not being entirely sure whether the digital display is showing the length, width or stitch pattern.
Of course, Husqvarna Viking isn't the only manufacturer to offer an entry-level mechanical machine and there are cheaper alternatives. So, what do you get for your money?
Why buy from us?
For a start, there's the [not insignificant] issue of the warranty. While you can buy a serviceable machine at half the price of a Husqvarna Viking E20 from a chain store, you'll find – if you ever need to call on after-sales service – that the guarantee is offered by the store, not the manufacturer and, most of the time, the store staff will simply exchange your faulty machine, like-for-like. Unless they have none left – in which case they'll just give you a refund. The staff have no knowledge of or interest in what they're selling and the after-sales number in the user manual will refer you to their contracted repair agent.
Free introductory session included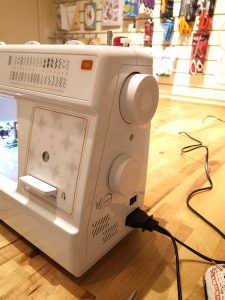 When you buy a sewing machine from a sewing shop like us, you know – at minimum – that the sales assistant has a personal interest in sewing and has, very probably, used every machine that they sell. At Wild Ireland Haberdashery, we have no umbrella contract with a single service agent. However, we'll check your machine over before you take it away and there's a half-hour introductory class that comes, free, with every machine we sell, for you [or the person you're buying the machine for], so that you can feel confident from the moment you get it out of the box at home. If you have a problem, you're always welcome to pop in and see us and, if necessary, we'll arrange to get your machine to an experienced, authorised service agent.
Features
Aside from after-sales considerations, possibly the single most important thing to look for in a sewing machine – at any price point – is the motor and, in this respect, the E20 is a winner. I've never missed an opportunity to test the machine with a wide variety of sewing projects including furnishing fabrics, canvas, stretch jersey, felt and fake fur, and it's never missed a beat. The E20 also has some nice little extras for the serious sewist, including adjustable presser foot pressure, and 32 fun and practical stitches, including utility stitches, decorative stitches and stretch stitches.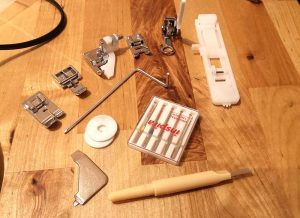 It also has an impressive accessory kit including a zipper foot, satin stitch foot (max. stitch width 5mm), buttonhole foot, quilting foot, free-motion/darning foot, and a blind hem foot. The E20 also benefits from using the 'snap-on' presser foot system and the 'universal' 15K bobbin.
Remember, every sewing machine we sell comes with a half-hour familiarisation session, so you can 'de-box' with confidence!