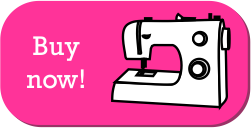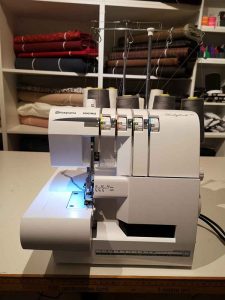 The Huskylock S15 is Husqvarna Viking's entry-level overlocker/serger , representing great value-for-money for those who want a robust machine with a reliable pedigree. Running regular overlocker/serger workshops, I get to see a wide variety of models and, while I don't claim to be an expert (participants are required to bring their user manual!), there are definitely features that I value in a machine and that I miss, if absent. So, let's take a look at the S15.
Essential controls/adjustments
Aside from the four thread tension dials, the essential controls and adjustments I expect in an overlocker would be differential feed, stitch length, cutting width, stitch finger settings for rolled and normal edging, and a retractable blade. To be honest, these days, even the cheapest budget machine from Lidl or Aldi usually includes all these, but they can be fiddly or inaccessible to use, in practice. One of the first things you notice with the S15 is that all the controls are clearly visible and all the various knobs and dials are of a chunky sort of size that makes them easy to manipulate.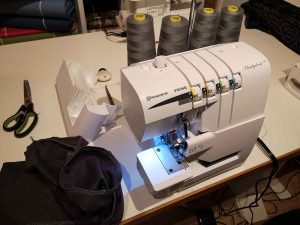 Along with the essentials, the S15 also features a presser foot pressure adjustment, allowing you to stitch different thicknesses of fabric efficiently, and a flat bed extension that can be removed for easier serging of armholes and trouser hems. (This photo shows the serged armhole of a small child's jersey top.) I also appreciate the clearly marked seam guide and the built-in thread cutter – the latter being a bit of a rarity on overlockers/sergers at this price point.
Threading
Threading is pretty straightforward: upper looper first, followed by lower looper, then needles. The thread pathway is clearly colour-coded. The lower looper is threaded by passing the thread behind and over the tip of the looper 'blade', then pulling it to the left so that it slides up the blade and slots into the notch at the back. This can seem awkward, at first, because it's a bit of an act of faith. You can't actually see the notch at the back of the blade so you just have to keep sliding the thread up the blade until you feel it engage. Then you can bring it forward again, along the grooved side of the blade, and thread it through the small hole at the tip. Once you've done it successfully a couple of times, it becomes second nature.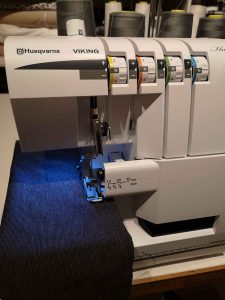 The Huskylock S15 uses the ELx705 overlock/serger needle system – not domestic sewing machine needles. Polyester thread is recommended. I most regularly use an overlocker/serger with a 3-thread overlock stitch for finishing seams sewn with a regular sewing machine. However, I do occasionally sew simple garments in jersey or stretch fabrics, using 4-thread overlock, and I am a particular fan of the sort of narrow rolled hem that can only be achieved with an overlocker/serger. The S15 copes with all my requirements admirably.
One last thing that really sets a quality machine like this apart from its budget rivals is a clear and well-illustrated user manual. Many otherwise excellent machines are really let down by their user manuals being poorly translated, with obscure illustrations and tiny text.
Remember, every sewing machine we sell comes with a half-hour familiarisation session, so you can 'de-box' with confidence!