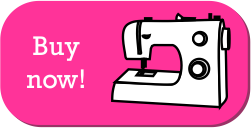 Long arm and bright LED lights
While not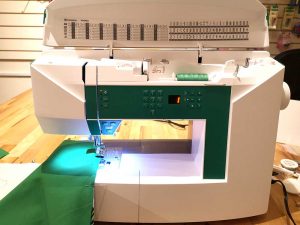 directly aimed at the quilting market, the quirky-looking Jade 20 has a number of features that will appeal to patchwork and quilting fans. The Jade 20 benefits from an 8″ (200mm) sewing area to the right of the needle – huge compared with most domestic machines, and an affordable alternative to the much more sophisticated Opel 690Q. The foot plate includes a very visible 1/4″ seam guide, and the machine also has extra LED lighting, and a start/stop function and speed control that allows it to be used without the foot pedal.
Practical features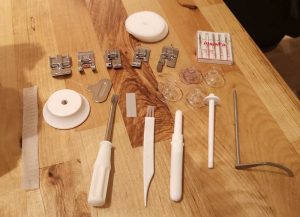 In many ways, the electronic Jade 20 shares some of the comforting familiarity of my old Freesia 425. The fix and stop buttons, and mirror function that sets the needle position to the right of the presser foot for sewing zips, etc., are examples, as is the thread path. However, as you would expect, the machine also includes new features like the button control for the needle up/down that allows you to choose whether the needle lifts automatically when you stop sewing. While a self-threader is hardly a luxury on today's machines, the one that comes with the Jade is so silky smooth that I actually found myself taking my specs off to peer at the mechanism to check whether there actually was a hook there at all!
Ingenious storage solution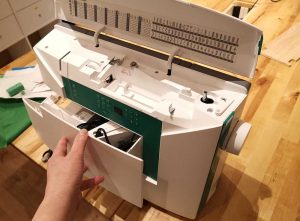 Naturally, the Jade 20 is built around a fabulous – almost silent – motor and the typical Husqvarna build quality is self-evident. The machine has a host of utility and decorative stitches and a helpful sewing guide printed on the inside of the lid. As a dressmaker, I find it a joy to use. But, perhaps the most striking thing about the Jade 20 is its looks and, in particular, the ingenius accessory box – large enough to hold the pedal and power cable – that locks into the front of the machine, simultaneously creating a built-in carry case, protecting the surrounding parts from dust and damage.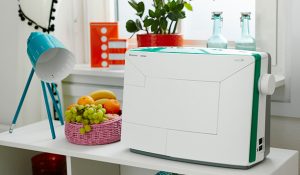 Remember, every sewing machine we sell comes with a half-hour familiarisation session, so you can 'de-box' with confidence!