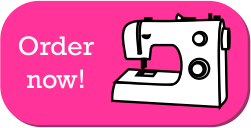 Touch screen programming, easy set-up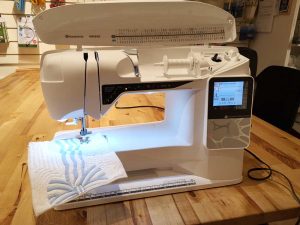 This completely computerised machine shares many qualities with my own Topaz 50 embroidery machine, but I'll be honest and say that my knowledge of quilting is rudimentary, at best. While the Opal 690Q is a fabulous sewing machine, with touch screen programming and automated set-up for different types of fabric/sewing task, I'm not the best person to test its quilting abilities. So, I engaged the services of my step-daughter, Anna, to put the machine through its paces. Anna is also a Husqvarna fan, her current machine being an electronic Emerald 200 series, so she was keen to see what the Opal could do.
Near silent operation
The first thing Anna noticed was how quiet the machine was. For a quilter – particularly for a quilter with young children – this is no small thing. During the half-hour or so she was testing the machine, our respective husbands were able to continue watching the television, undisturbed and completely unaware of the creativity going on on the other side of the room (though, it has to be said, that may say more about their comparative interest in football as compared with sewing)!
Auto free-motion and presser foot pressure control
Although she was a little intimidated by the computer-like touch screen, a quick read of the user manual was all Anna needed to easily navigate to the setting for floating or spring-action free-motion quilting and produce a cute little sampler. Her own machine will do everything the Opal can – after a fashion – but, on her Emerald, everything must be set up manually and needs a few test runs and a bit of adjustment before she is confident to start a project. With the Opal 690Q, all that was involved was a tap of the stylus on the screen to select the desired function and, when she was finished, Anna just tapped the automatic thread cutter to remove her work from the machine.
The Opal 690Q features an impressive sensor system that continuously senses and adjusts the pressure foot pressure, allowing perfect feeding of any thickness of fabric and, being built for quilting, the machine boasts 8″ (200mm) of workspace under the long arm and extra LED lighting to reduce shadows.
Ease of use
In fact, it wasn't long before I tried the machine myself. While I don't have Anna's quilting knowledge, the touch screen menu really is easy to navigate. It didn't take more than a quick run through of the relevant section of the excellent user manual before I was able to produce some quite impressive textile art of my own. I quickly became a fan of the free-motion spring-action function, which made even quite intricate designs easy to achieve – for a complete quilting novice!
Other features and accessories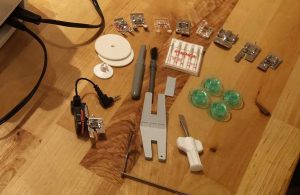 The Opal 690Q comes with a huge number of utility and decorative stitches, including programmable lettering in two different fonts. Amongst the comprehensive accessory kit that comes with the Opal range are a decorative stitch foot, a manual buttonhole foot, a blind hem foot, the lovely paddle-shaped Husqvarna zipper foot, an edging foot, the Husqvarna 'Sensor' one-step buttonhole foot, and the extremely useful jeans seam/multi-purpose tool. The 690Q accessory kit also includes a quilter's 1/4" piecing foot, a clear open toe foot, and and embroidery/darning foot.
I think Anna just added this machine to her Christmas wish list!
Remember, every sewing machine we sell comes with a half-hour familiarisation session, so you can 'de-box' with confidence!