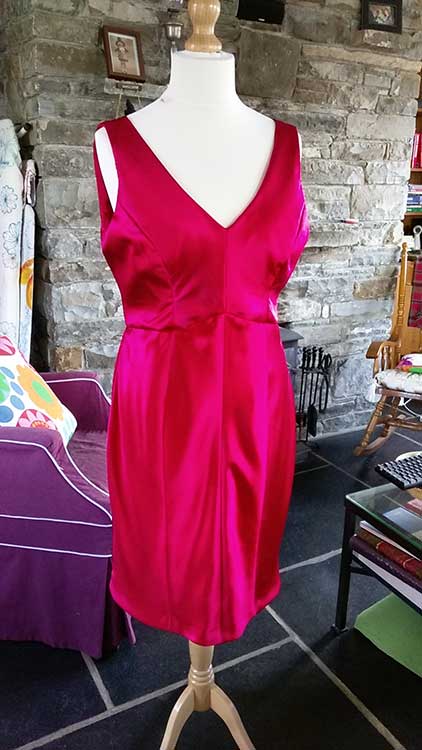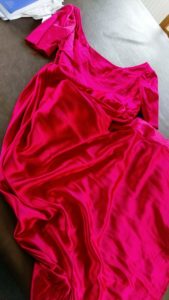 This was once a favourite dress; I've had it for years. It had a small train that made it too long for a standard full-length cupboard, it was out of style, and I had long-since outgrown it. Despite this, I could never quite bring myself to throw out such a quantity of pure red silk. So, having come across it again last week, in the process of rationalising my wardrobe, I decided to give it a second lease of life. I decided to recycle the silk and create something that I could actually wear.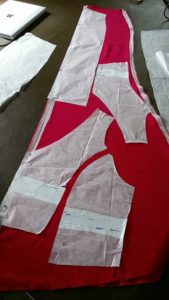 The first task was to carefully dismantle the original dress. There was very little that I could have done with the pleated bodice, made from folded strips of bias-cut silk, so I'm afraid that part was discarded. I figured the sleeves would be big enough to cut a bodice panel from, so I kept those – and there was undoubtedly useful yardage in the long flared skirt.
The pattern I'm using for this little project is Vogue Easy Options #V8997. Made with the recommended linen blends, crepe, tropical wool or broadcloth, it makes up as a summer day dress, but view E showed straight, sleeveless version that I thought would make a lovely short evening dress in my red silk. In my size (largish!), the pattern calls for 1.3m of dress fabric. Looking at the skirt and sleeves of my old dress, I reckoned I'd have just enough. The only other things I would require would be a soft Vilene interfacing and a zip.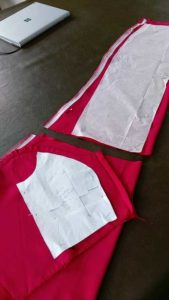 The straight grain was easy enough to identify on the back panels of the skirt, so I left the overlocked edge alone and lined up the front panels of the dress. The other panels were trickier, being cut on the bias, so I gently stretched the fabric to find the grain and worked from there. The sleeves were just big enough to cut two bodice side panels from.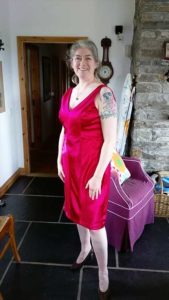 Unfortunately, the lining fabric was more fragile than the silk, and parts of the seams ripped when I tried to unpick them. The result was that I didn't have enough lining left from the original dress to line the new one … so I used silk for four bodice lining panels instead!
With all the pieces cut out, I proceeded as per the pattern instructions and quickly forgot the old dress. I'm delighted with the new one. What do you think? Have you got a dress you would like to remodel?